Bowmore 12 Ans Islay Scotch Single Malt
Scotch, 750 mL
| | |
| --- | --- |
| Pays : | Royaume-Uni |
| Région : | Écosse |
| Sous région : | Islay |
| Producteur : | Morrison Bowmore Distillers Ltd |
| Site web : | www.morrisonbowmore.co.uk |
| Alcool : | 40 % |
| Cépage(s) : | Whisky écossais de malt |
| Style : | Puissant Et Fumé |
| Couleur : | Ambré(e) |
| Contenant : | Contenant De Verre Clair |
| Bouchon : | Liège |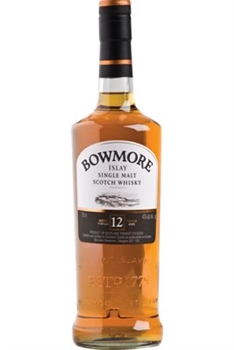 Note de dégustation
Robe ambre doré; nez de tourbe et de viande fumée; corsé et gouleyant en bouche, avec des saveurs intensément fumées.
Note de dégustation (anglais)
Full amber-gold colour; forward peaty and smoked meat aromas; full-bodied and smooth with intense smoky flavours.
Warm and delicious with subtle dark chocolate and peat smoke.
Complex yet perfectly balanaced, this 12 year old reflects the raw presence of Bowmore - thrashing waves, windswept landscapes and generations of traditions. Warm amber in colour, the subtle lemon and honey aromas are balanced beautifully by Bowmore's trademark peaty smokiness. It is a sweet and delicious sip with heather honey and gentle peat smoke. The finish is long and mellow. "Easily by far the truest Bowmore I have tasted in a long while with myriad complexity..." Jim Murray's Whisky Bible 2012, 91 Points. Featured in the 2012 Share The Season Holiday Gift Ideas booklet.