Bruichladdich Botanist Islay
Dry gin, 700 mL
| | |
| --- | --- |
| Pays : | Royaume-Uni |
| Région : | Écosse |
| Producteur : | Bruichladdich Distillery Company Limited |
| Site web : | www.bruichladdich.com/ |
| Alcool : | 46 % |
| Contenant : | Contenant De Verre Clair |
| Bouchon : | Liège Avec Tête De Plastique |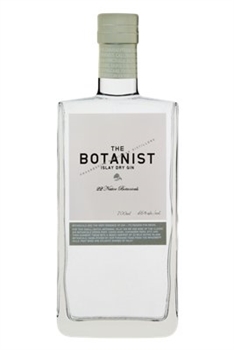 Note de dégustation
.
Note de dégustation (anglais)
THE AROMAS EXPLODE LIKE AN OLFACTORY AURORA BOREALIS FILLING THE SENSES WITH METEORITES OF SMELL SENSATIONS AS THEY EXPLODE FROM THE GLASS. SWEET DELICATE MENTHOL, APPLE MINT, SPRING WOODLANDS, JUNIPER, CORIANDER WITH ANISEED UNDERTONES, LEMON AND ORANGE PEEL, A BOUQUET OF SUMMER FLOWERS ON THE MACHIR, HONEY FROM THISTLE, COCONUT FROM GORSE, WILD MINT AND SUMMER MEADOWS. IT' S A MAGICAL MELODY OF ISLAY' S' NATURAL BOUNTY FROM THE ATLANTIC WASHED BEACHES TO THE SUMMIT OF HEATHER COVERED HILLS. INHALE AND YOU' RE THERE ON THE QUEEN OF THE HEBRIDES!
As featured in Taste Magazine, Spring 2013. Of the 31 aromatics used in this distinctive gin, nine are classics and 22 are wild, Islay native botanicals like bog myrtle leaves and tansy. This small-batch gin is a first for Islay, best known for its scotch whiskies. The nose is floral and fresh, while the palate has hints of juniper, spice and citrus.