Bushmills Original
Whisky, 750 mL
| | |
| --- | --- |
| Pays : | Irlande |
| Producteur : | The Old Bushmills Distillery Co. |
| Site web : | www.diageo.com |
| Alcool : | 40 % |
| Cépage(s) : | Irlande |
| Style : | Léger Et Fruité |
| Couleur : | Ambré(e) |
| Contenant : | Contenant De Verre Clair |
| Bouchon : | Métal Vissé |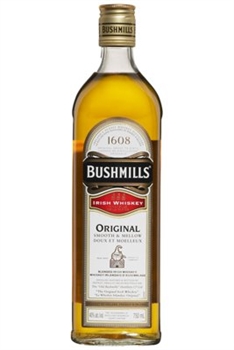 Note de dégustation
Riche couleur d'un or profond; nez de pêche et de céréales; saveurs tendres et sucrées; notes d'écorce d'agrumes en finale.
Note de dégustation (anglais)
-360 The golden member of the family. It's a blend of triple distilled single malt whiskey with a lighter irish grain whiskey. The folks back at the old distillery will tell you it's an approachable whiskey with a rich' warming taste of fresh fruit and vanilla. Try it and you'll see what they mean.