Chivas Regal 12 Ans Scotch Blended
Scotch, 1,14 L
| | |
| --- | --- |
| Pays : | Royaume-Uni |
| Région : | Écosse |
| Producteur : | Chivas Brothers Ltd. |
| Site web : | www.chivas.com |
| Alcool : | 40 % |
| Cépage(s) : | Whisky écossais blend |
| Style : | Puissant Et Doux |
| Couleur : | Ambré(e) |
| Contenant : | Contenant De Verre Clair |
| Bouchon : | Liège |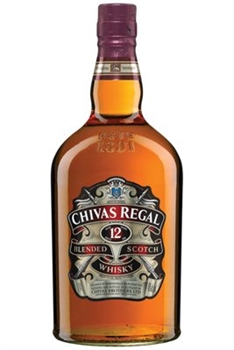 Note de dégustation
Couleur or; arômes légèrement fumés et boisés de céréales sucrées; finale longue et gouleyante impartie par un élevage de 12 ans.
Note de dégustation (anglais)
A smooth whiskey with a honeyed, mellow taste blended from whiskies matured for at least 12 years.
Chivas Regal 12 Year Old is a radiant, warm amber colour. The nose is an aromatic infusion of wild herbs, heather, honey and orchard fruits. The taste is round and creamy on the palate with the full, rich taste of honey, ripe apples, and vanilla, hazelnut and butterscotch notes. The finish is rich and lingering.
Chivas Regal 12 Year Old is an expression of a unique tradition. Its smooth, rich and versatile taste has made the name Chivas Regal famous throughout the world. This prestigious premium blended Scotch whisky is a true global brand.