Cointreau
Liqueur, 750 mL
| | |
| --- | --- |
| Pays : | France |
| Producteur : | Cls Rémy Cointreau |
| Site web : | www.cointreau.com |
| Alcool : | 40 % |
| Style : | Chaleureuse Et Fruitée |
| Contenant : | Contenant De Verre Coloré |
| Bouchon : | Métal Vissé |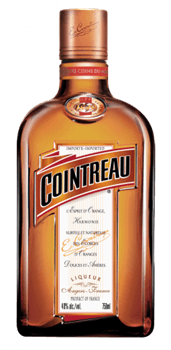 Note de dégustation
Robe claire et incolore; nez piquant d'orange et de zeste d'orange; saveur d'orange douce-amère, bien équilibrée par la chaleur de l'alcool.
Note de dégustation (anglais)
Cointreau is a 100% pure orange premium liqueur with a brandy base. It is crystal clear, making it an ideal and versatile ingredient for the most successful cocktails. Sweet and bitter orange peel combined.
Fresh orange on the nose with a slight sweetness mixing. Ripe orange rind flavours on the palate produce a mouth-watering effect, with sweetness dominating near the lingering end.
With layers of sweet and bitter orange, Cointreau is fresh, zesty and sweet on the nose, ripe and pleasantly bitter on the palate, with a hint of heat and a long, sweet finish. This liqueur is an essential ingredient in countless cocktails, including hot drinks. Enjoy it in just about anything.