Crystal Head
Vodka, 750 mL
| | |
| --- | --- |
| Pays : | Canada |
| Producteur : | Globefill inc. |
| Site web : | www.crystalheadvodka.com |
| Alcool : | 40 % |
| Style : | Moelleuse Et Crémeuse |
| Contenant : | Contenant De Verre Clair |
| Bouchon : | Liège Avec Tête De Plastique |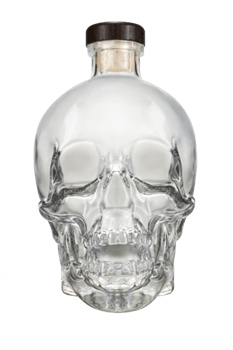 Note de dégustation
Limpide et incolore; arômes et saveurs nets de grain neutre avec de délicates notes d'agrumes; finale nette et moelleuse.
Note de dégustation (anglais)
A pure spirit made with neutral grain and no additives or flavourings.
Crystal Head Vodka is the world's first crystal filtered vodka. It is one of the world's purest vodkas, with no additives or flavouring, it is made using water from Icelandic glaciers.
Clear and colourless; clean neutral grain aromas and flavors with a delicate touch of citrus; smooth, clean finish.