El Dorado 21 Ans
Rhum, 750 mL
| | |
| --- | --- |
| Pays : | Guyana |
| Région : | Guyana |
| Producteur : | Demerara Distillers Ltd. |
| Site web : | www.theeldoradorum.com |
| Alcool : | 40 % |
| Cépage(s) : | Rhum de qualité supérieure |
| Style : | Puissant Et Fruité |
| Couleur : | Ambré(e) |
| Contenant : | Contenant De Verre Coloré |
| Bouchon : | Métal Vissé |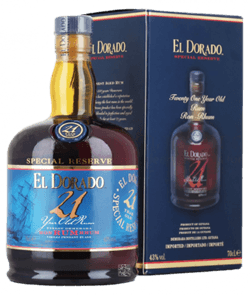 Note de dégustation
Robe ambre profond limpide; arômes complexes et intenses de caramel, d'épices, de fruits séchés, de cassonade, de zeste d'orange, de vanille et de chêne; bouche corsée et veloutée de caractère demi-sec; saveurs de caramel, de fruits séchés, de banane, d'épices et d'agrumes; finale longue et chaleureuse.
Note de dégustation (anglais)
This glorious, full bodied rum of exquisite taste and character, specially and carefully packaged in a bottle inspired by the flasks used by the sugar planters many centuries ago on the banks of the Demerara river, we are very certain will be a delight to the Connoisseurs of very fine spirits.
Lush, tropical nose with hints of honey and dark sugar. Round, mellow and full-bodied. Rich flavours of fruit and spice.
Enticing aromas of mocha, toffee, pipe tobacco and toasted oak greet the nose of this copper-coloured beauty. A full-bodied, rich and satiny mouthfeel sends waves of smooth, integrated flavours of fruit preserves, tobacco, spice and toffee across the palate. This monumental rum transcends with evolving layers of tobacco, chocolate and spice on the finish.