Galliano Liqueur De Vanille
Liqueur, 375 mL
| | |
| --- | --- |
| Pays : | Pays-Bas (Hollande) |
| Producteur : | Lucas Bols BV |
| Site web : | www.lucasbols.com |
| Alcool : | 30 % |
| Style : | Chaleureuse Et Sucrée |
| Couleur : | Jaune |
| Contenant : | Contenant De Verre Clair |
| Bouchon : | Plastique Vissé |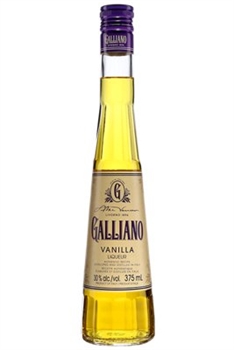 Note de dégustation
Robe jaune limpide et éclatante; arômes de vanille et d'anis; bouche aux nuances de vanille douce et d'anis marquées d'une pointe d'épices.
Note de dégustation (anglais)
Herbacious flavours such as star anise, juniper, musk yarrow, ginger and lavender come together with a vanilla distillate of the highest quality. The taste and aroma is sweet and herbacious with a fragrant vanilla overtone.
Featured in TASTE Magazine, Winter 2012 issue. Best known for its role in the classic Harvey Wallbanger cocktail, this vibrant yellow liqueur is also perfectly enjoyable on its own. The recipe comprises 40 different botanicals, predominantly vanilla and anise, for a mediumbodied liqueur with flavours of vanilla bean, candied orange peel, peppery herbs and a long, smooth finish.