Glayva Liqueur
Liqueur, 750 mL
| | |
| --- | --- |
| Pays : | Royaume-Uni |
| Région : | Écosse |
| Producteur : | Whyte and Mackay Ltd |
| Site web : | www.glayva.com |
| Alcool : | 35 % |
| Style : | Chaleureuse Et Herbacée |
| Couleur : | Ambré(e) |
| Contenant : | Contenant De Verre Clair |
| Bouchon : | Couronne Métallique Vissée |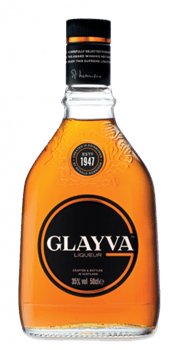 Note de dégustation
Robe or; arômes végétaux de fleurs et de bruyère, avec un soupçon d'orange; saveurs de miel, d'herbes et d'épices sur une base de whisky écossais; finale souple, chaude, riche et légèrement fumée, qui évoque la réglisse.
Note de dégustation (anglais)
An exotic fusion of the finest aged Scotch malt whiskies and exotic ingredients from around the world; a carefully selected range of spices, Mediterranean tangerines, cinnamon, almonds and honey. Surprisingly smooth and sweet, Glayva tantalizes the palate. It's a taste that has won the prestigious IWSC Award for Best Liqueur an impressive 5 times. Crafted by Edinburgh whisky merchant Ronald Morrison, the recipe remains unchanged from the day it was first created in 1947. "Glayva" translates in Gaelic to very good, the words spoken by Morrison's warehouseman upon tasting the liquid.
*Please note that prices shown exclude taxes. Taxes and container deposit, if applicable, will be applied at checkout. The price disclaimer below may not be correct.*