Glenfiddich 18 Ans Highland Scotch Single Malt
Scotch, 750 mL
| | |
| --- | --- |
| Pays : | Royaume-Uni |
| Région : | Écosse |
| Sous région : | Highlands |
| Producteur : | William Grant & Sons Distillers Ltd |
| Site web : | www.glenfiddich.com |
| Alcool : | 40 % |
| Cépage(s) : | Whisky écossais de malt |
| Style : | Mi-corsé Et Épicé |
| Couleur : | Ambré(e) |
| Contenant : | Contenant De Verre Clair |
| Bouchon : | Liège |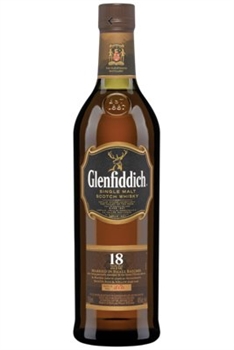 Note de dégustation
Couleur or; nez de caramel, avec des notes florales et vanillées; très moelleux en bouche, avec des notes sucrées; finale tenace.
Note de dégustation (anglais)
Produced in small batches, Glenfiddich 18 Year Old combines a touch of sweetness from the Spanish Oloroso wood, with oakiness drawn from the traditional American casks. When combined, these rich, mellow flavours create an exceptionally smooth single malt Scotch whisky with notes of spiced apple and robust oak.
Rich bronze.A remarkably rich aroma with ripe orchard fruit, baked apple and robust oak. Richly delivers luxurious dried fruit, candy peel and dates. Overlaid with elegant oak notes. Warming, rewarding and distinguished.