Glenkinchie 12 Ans Le Malt D'edimbourg Scotch Single Malt
Scotch, 750 mL
| | |
| --- | --- |
| Pays : | Royaume-Uni |
| Région : | Écosse |
| Sous région : | Lowlands |
| Producteur : | Glenkinchie Distillery |
| Site web : | www.malts.com |
| Alcool : | 43 % |
| Cépage(s) : | Whisky écossais de malt |
| Style : | Léger Et Floral |
| Couleur : | Ambré(e) |
| Contenant : | Contenant De Verre Clair |
| Bouchon : | Liège |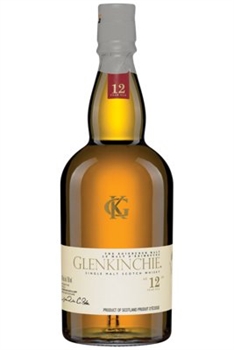 Note de dégustation
Vive couleur or moyen avec des reflets ambrés; arômes frais et légers d'écorce d'orange, de gazon séché, de fleurs et de brioche, avec des notes sous-jacentes de tourbe fumée.Léger et élégant, il présente une séduisante douceur de malt et des saveurs de biscuit à l'avoine, de fruits en compote et de noix. Longue finale dans laquelle de légères notes fumées se mêlent à la douceur persistante.
Note de dégustation (anglais)
A light lowland single malt is fragrant, smooth and creamy on the palate. Notes of fresh grass, floral characters and hints of spice and smoke on the nose. Herbal and drying on the finish.
Bright medium gold with amber/gold highlights; Fresh, light aromas of orange peel, dried grass, flowers, biscuit and with underlying light peat-smoke; Light bodied, and elegant, with appealing malty sweetness and flavours of oatmeal biscuit, cooked fruits and nuts. Light smoky note melds with a persistent sweetness on a lengthy finish.
*Please note that prices shown exclude taxes. Taxes and container deposit, if applicable, will be applied at checkout. The price disclaimer below may not be correct.*