Glenmorangie Nectar D'or Highland Scotch Single Malt
Whisky, 750 mL
| | |
| --- | --- |
| Pays : | Royaume-Uni |
| Région : | Écosse |
| Producteur : | The Glenmorangie Distillery |
| Site web : | www.glenmorangie.com |
| Alcool : | 46 % |
| Couleur : | Ambré(e) |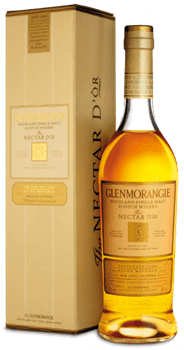 Note de dégustation (anglais)
A caress of silk velvet on the tongue gives way to a swathe of rich, dark chocolate-enrobed walnuts leaving in their wake the lemony-rose jelly texture of Turkish delight. Then sugar-coated crystallised orange segments emerge, countered by crisp mint chocolate, adding a chiffon like texture.
Palate: Body like liquid gold. Attack is heavy with clover honey, in both flavor and firmness of texture. It tastes like a glass of dessert wine on fire. When developing, some spiciness, cinnamon or nutmeg and vanilla. Finish is medium long with more cereal notes. A lingering ghost of spice vanilla chai. Also some toffee.
made using 16-year-old Glenmorangie whisky that is subsequently further aged in French sauternes casks, this delicate dram can truly be described as a dessert-style single malt. Flavours of almond, apricot and honey all meld together perfectly!