Grand Marnier
Liqueur, 375 mL
| | |
| --- | --- |
| Pays : | France |
| Producteur : | Marnier-Lapostolle SA |
| Site web : | www.grand-marnier.com |
| Alcool : | 40 % |
| Style : | Chaleureuse Et Fruitée |
| Couleur : | Ambré(e) |
| Contenant : | Contenant De Verre Coloré |
| Bouchon : | Liège |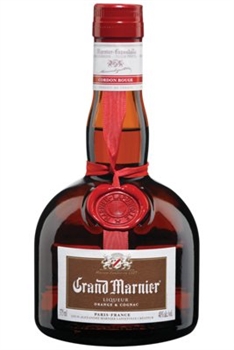 Note de dégustation
Robe ambre doré; doux arômes d'agrumes et de zeste d'orange agrémentés de notes de brandy épicées; bouche douce et équilibrée; finale persistante et chaleureuse.
Note de dégustation (anglais)
The original liqueur created in 1880 by Louis-Alexandre Marnier Lapostolle. A delicate blend of the cognacs and distilled essence of tropical oranges with Marnier-Lapostolle's secret touch. Slow ageing in French oak casks gives it incomparable roundness and subtlety.
Bright topaz with gold and amber tints. Complex nose of orange flowers combined with scents of candied zests and toffee. Bitter orange flavours are enhanced by the cognac with nuances of orange marmalade and hazelnuts. The finish is long and harmonious.
An icon of authentic French "joie de vivre" Grand Marnier offers a delicate blend of fine cognacs and distilled essence of tropical oranges.