Grand Marnier Framboise Pêche
Liqueur, 750 mL
| | |
| --- | --- |
| Pays : | France |
| Région : | Cognac |
| Producteur : | Marnier-Lapostolle SA |
| Site web : | www.grand-marnier.com |
| Alcool : | 40 % |
| Style : | Chaleureuse Et Fruitée |
| Couleur : | Ambré(e) |
| Contenant : | Contenant De Verre Coloré |
| Bouchon : | Liège |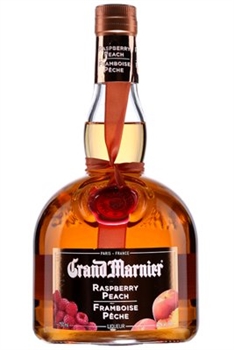 Note de dégustation
La framboise européenne et la pêche sanguine cultivée dans l'Ardèche, au sud de la France, confèrent à cette magnifique liqueur son goût unique. Robe rose profond; nez parfumé de pêche et de framboise, bouche demi-douce menant à une finale persistante, équilibrée par une note acidulée qui contraste avec les nuances riches et douces.
Note de dégustation (anglais)
Grand Marnier Signature Collection, Raspberry Peach is a blend of the natural flavors of succulent European raspberries and rare red peaches from Ardèche in the South of France, combined with the world-renowned Grand Marnier, made from our exceptionally smooth Cognac and wild tropical orange essence. The result, an alluring and mixable spirit that is enjoyable on the rocks and in delicious cocktails.
Rich blend of succulent raspberries and rare red peaches from the South of France with the famous Grand Marnier orange essence. Very well balanced. Finish supported by the Cognac notes. Enjoyable neat, on the rocks or in simple and complex cocktails.
JUNE 2014 Insider Pick from Adele Shaw, Portfolio Manager for Spirits, Fortified, Fruit, South African and Asian Wines: "This is a beautiful liqueur that is perfect for the summer. The flavours of the all natural raspberries and rare red peaches combined with the exotic orange essence of Grand Marnier, produces a delicious, complex fruity tasting liqueur."