Highland Park 12 Ans Orkney Scotch Single Malt
Scotch, 750 mL
| | |
| --- | --- |
| Pays : | Royaume-Uni |
| Région : | Écosse |
| Producteur : | Highland Park Distillery Ltd |
| Site web : | www.highlandpark.co.uk |
| Alcool : | 43 % |
| Cépage(s) : | Whisky écossais de malt |
| Style : | Mi-corsé Et Fumé |
| Couleur : | Ambré(e) |
| Contenant : | Contenant De Verre Clair |
| Bouchon : | Liège |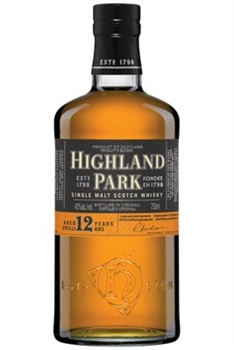 Note de dégustation
Ambre-or moyen; nez de caramel, de gingembre et d'épices; riche et presque sucré en bouche, avec une texture crémeuse; longue finale épicée.
Note de dégustation (anglais)
Highland Park 12 Year Old is made from the best barley malted over peat fires, merged with the unique spring waters of the island, and aged in casks for a minimum of twelve years; shaping its rare and very distinctive character.
This amber spirit has a light, briny vanilla scent and a silky feel. A veil of smoke rises through the Scotch (but fades out fast), leaving behind a sweet nutty, vanilla finish.
First you get the silky coating. Just as you purr from that and you settle into the malty attack, from nowhere a subtle honey edge descents. An unusual, brief sharpness retreats, allowing room for the most delicate of smoke; only half-serious vanilla and lazy citrus continue to give the feel of a younger than normal malt and no heather, with the lightest sprinkling of peat. Jim Murray's Whisky Bible 2011, 91 pts