Isle Of Jura Superstition Scotch Single Malt
Scotch, 750 mL
| | |
| --- | --- |
| Pays : | Royaume-Uni |
| Région : | Écosse |
| Producteur : | The Isle of Jura Distillery |
| Site web : | www.isleofjura.com |
| Alcool : | 40 % |
| Cépage(s) : | Whisky écossais de malt |
| Style : | Puissant Et Fumé |
| Couleur : | Ambré(e) |
| Contenant : | Contenant De Verre Clair |
| Bouchon : | Liège |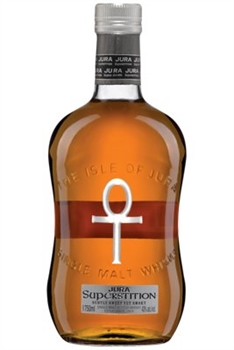 Note de dégustation
Robe limpide de couleur ambre doré; arômes de fumée, de caramel anglais et d'écorce d'agrumes; bouche suave au noyau doux; finale aux tonalités fumées.
Note de dégustation (anglais)
Lightly peated with hints of smoke and spice. Crafted from a selection of the finest aged Jura single malt whiskies, this mysterious spirit has a unique style and character, with tastes of spice, honey, pine and peat, with a whisper of smoke.