J. & B. Rare Scotch Blended
Scotch, 1,14 L
| | |
| --- | --- |
| Pays : | Royaume-Uni |
| Région : | Écosse |
| Producteur : | Justerini & Brooks |
| Site web : | www.justerinis.com |
| Alcool : | 40 % |
| Cépage(s) : | Whisky écossais blend |
| Style : | Léger Et Herbacé |
| Couleur : | Ambré(e) |
| Contenant : | Contenant De Verre Coloré |
| Bouchon : | Métal Vissé |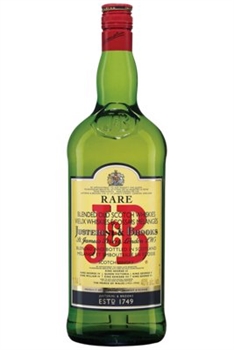 Note de dégustation
Robe ambre doré; légères nuances de tourbe, de fumée et d'iode au nez et en bouche; bouche de caractère sec et net; finale vive.
Note de dégustation (anglais)
Rare blended whisky of supreme quality made of Scotland's finest mal and grain whiskies. Exception, smooth, rounded flavour with delicate aroma and well balanced finish.
No less than 42 whiskies, including Speyside malts which lend it character, this versatile blend displays herbaceous and floral notes.