Jack Daniel's Old No 7
Whisky, 200 mL
| | |
| --- | --- |
| Pays : | États-Unis |
| Région : | Tennessee |
| Producteur : | Jack Daniel Distillery |
| Site web : | www.brown-forman.com/ |
| Alcool : | 40 % |
| Cépage(s) : | Whiskey américain |
| Style : | Mi-corsé Et Doux |
| Couleur : | Ambré(e) |
| Contenant : | Contenant De Verre Clair |
| Bouchon : | Liège |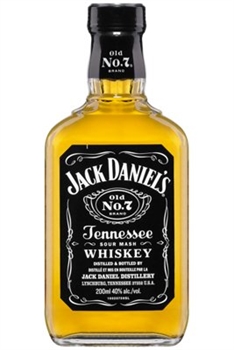 Note de dégustation
Couleur or pâle; nez de gruau avec des accents sucrés de caramel et de cèdre; saveurs rondes et sucrées; finale un peu piquante.
Note de dégustation (anglais)
A flavourful and spicy bourbon. Exhibits a higher degree of fruit, confectionary and developing wood notes with pronounced spice. The finish of the whiskey becomes a more important feature for this style.
We charcoal mellow our whiskey drop by drop, then let it age in our own handcrafted barrels. Our Tennessee Sipping Whiskey is ready only when our tasters say it is. We use our senses, just like Jack Daniel himself did. In fact, more than a century later, our Tennessee Whiskey is still judged the same way. By the way it looks, it smells, and of course the way it tastes.