Jack Daniel's Single Barrel Tennessee
Whisky, 750 mL
| | |
| --- | --- |
| Pays : | États-Unis |
| Région : | Tennessee |
| Producteur : | Brown-Forman Beverage Worldwide |
| Site web : | www.jackdaniels.com |
| Alcool : | 47 % |
| Cépage(s) : | Whiskey américain |
| Style : | Mi-corsé Et Doux |
| Couleur : | Ambré(e) |
| Contenant : | Contenant De Verre Clair |
| Bouchon : | Liège Avec Tête De Plastique |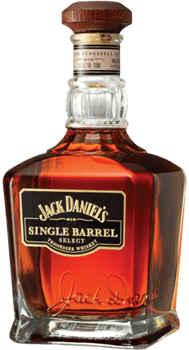 Note de dégustation
Robe d'une profonde couleur ambre; arômes de caramel, de vanille, de feuilles, de pêche et de noix de coco; bouche de caractère sec et souple, saveurs fruitées et épicées de chêne, longue finale.
Note de dégustation (anglais)
Robust taste with notes of toasted oak, vanilla and caramel.
Notes of toasted oak, vanilla, and caramel.
Because no two barrels can occupy the exact same space within the barrelhouse, the whiskey that emerges from each barrel has a difference in character. Evidence of this unique background is the bottle's neckband indicating its rack, barrel number and individual bottling date. This is the beauty of Jack Daniel's Single Barrel and each barrel will provide a singular experience for those who enjoy it.