Johnnie Walker Red Label Scotch Blended
Scotch, 375 mL
| | |
| --- | --- |
| Pays : | Royaume-Uni |
| Région : | Écosse |
| Producteur : | John Walker & Sons |
| Site web : | www.johnniewalker.com |
| Alcool : | 40 % |
| Cépage(s) : | Whisky écossais blend |
| Style : | Léger Et Fumé |
| Couleur : | Ambré(e) |
| Contenant : | Contenant De Verre Clair |
| Bouchon : | Métal Vissé |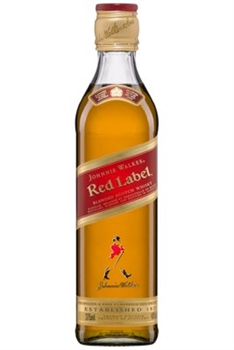 Historique des prix
Note de dégustation
Vive couleur laiton; saveurs légères de caramel et de vanille avec des notes fumées, boisées et épicées; un scotch de style léger.
Note de dégustation (anglais)
Bold, fearless and fiery with a smoky finish. A versatile, vibrant whisky. It' s perfect for mixing a quality not many other whiskies can boast without losing character.