Kilbeggan Whiskey Blend
Whisky, 750 mL
| | |
| --- | --- |
| Pays : | Irlande |
| Producteur : | Kilbeggan Distillery |
| Alcool : | 40 % |
| Cépage(s) : | Irlande |
| Style : | Mi-corsé Et Épicé |
| Couleur : | Ambré(e) |
| Contenant : | Contenant De Verre Clair |
| Bouchon : | Liège Avec Tête De Plastique |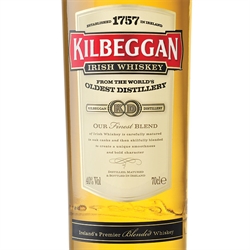 Note de dégustation
Robe ambre; arômes de miel, de vanille et de bruyère; sec en bouche, avec saveurs subtiles de vanille, de céréales, d'épices et d'avoine; finale de longueur moyenne.
Note de dégustation (anglais)
Established in 1757, KILBEGGAN DISTILLERY has been distilling and maturing handcrafted Irish Spirits for over 250 years. KILBEGGAN is characterised by aromas of sweet Oloroso Sherry and honey malt. The palate is of almond nougat,peach, caramel and vanilla finishing with light malt flavours. Impeccibley dry in finish.
*Please note that prices shown exclude taxes. Taxes and container deposit, if applicable, will be applied at checkout. The price disclaimer below may not be correct.*