Knob Creek 9 Ans Kentucky Bourbon
Whisky, 750 mL
| | |
| --- | --- |
| Pays : | États-Unis |
| Région : | Kentucky |
| Producteur : | Jim Beam Brands Co |
| Site web : | www.knobcreek.com |
| Alcool : | 50 % |
| Cépage(s) : | Bourbon |
| Style : | Puissant Et Doux |
| Couleur : | Ambré(e) |
| Contenant : | Contenant De Verre Clair |
| Bouchon : | Liège |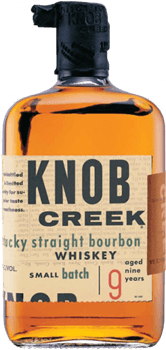 Note de dégustation
Robe ambrée; arômes de caramel et de vanille, avec un soupçon d'abricot sucré; bouche riche et corsée aux notes de caramel, avec une douceur de chêne en finale.
Note de dégustation (anglais)
Aromas of toasted nuts and grain oak. The taste is rich, sweet, woody, full-bodied and almost fruity. The finish is long and rich.
Golden amber colour; caramel, vanilla and aromas with a touch of sweet apricot; rich full-bodied with caramel falvour and sweet oak in the finish.
Takes over your palate with big notes of oak, caramel and fruit.
This bourbon is a deep amber colour with orange highlights. Burnt sugar and maple syrup dominate the nose, with additional hints of raisin, flint and fresh oak. Maple syrup and caramel flavours lead in the palate, then spice takes over with notes of cinnamon, clove and licorice. It has a dry, lingering oak finish with sweet and herbal notes.