Knob Creek 9 Ans Single Barrel Kentucky Bourbon
Whisky, 750 mL
| | |
| --- | --- |
| Pays : | États-Unis |
| Région : | Kentucky |
| Producteur : | Knob Creek Distillery |
| Site web : | www.knobcreek.com |
| Alcool : | 60 % |
| Cépage(s) : | Whiskey américain |
| Style : | Puissant Et Doux |
| Couleur : | Ambré(e) |
| Classification : | Mention d'âge |
| Contenant : | Contenant De Verre Clair |
| Bouchon : | Liège |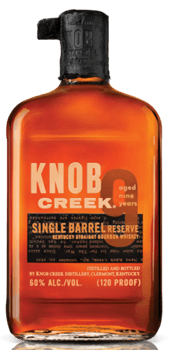 Note de dégustation
Robe cuivre moyen; arômes de caramel anglais, de miel, d'abricot séché et de gingembre confit; bouche mi-corsée et chaleureuse, avec une finale de caramel et d'épices.
Note de dégustation (anglais)
Knob Creek Single Barrel Reserve is carefully hand selected, barrel-by-barrel, to bring you a robust, mature flavor. It's full bodied with a smoky aroma and while filled with near barrel strength heat, it is extraordinarily smooth and nuanced. It has even more of the rich wood and vanilla notes that make Knob Creek the standout bourbon that it is. Knob Creek Single Barrel Reserve is long, full and easy to sip whether you choose to enjoy it neat, on the rocks or cut with distilled water.
This new single barrel expression of Knob Creek tastes very similar to the original "small batch" Knob Creek. It is slightly drier, more elegant, light and sophisticated on the palate. Because no two barrels are exactly alike, this is a stylish, big, broad-shouldered bourbon with a thick, sweet foundation of nutty toffee, pot still rum and maple syrup. Peppered with spice — cinnamon, but also vanilla, evergreen and dried fruit, Knob Creek Single Barrel has a dry, warming and resinous finish. 94 pts Malt Advocate