Laphroaig Quarter Cask Islay Scotch Single Malt
Scotch, 750 mL
| | |
| --- | --- |
| Pays : | Royaume-Uni |
| Région : | Écosse |
| Sous région : | Islay |
| Producteur : | D. Johnston & Co. |
| Site web : | www.laphroaig.com |
| Alcool : | 48 % |
| Cépage(s) : | Whisky écossais de malt |
| Style : | Puissant Et Fumé |
| Couleur : | Ambré(e) |
| Classification : | Mention d'âge |
| Contenant : | Contenant De Verre Coloré |
| Bouchon : | Liège |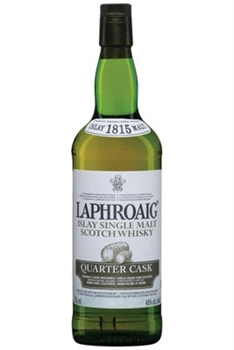 Note de dégustation
Couleur d'ambre à or pâle; flaveurs d'iode, de bois mouillé et fumé, avec une note de bacon fumé; bouche ample; finale marquée par le caramel.
Note de dégustation (anglais)
Laphroaig Quarter Cask is a sparkling gold colour and has an immediate aroma of peat smoke underlined by hints of coconut cream. There are flavours of peat smoke alternating with a gentle sweetness and a hint of salt on the palate of this full-bodied long finishing Scotch whiskey.
Full sparkling gold. Burning embers of peat in a crofters fireplace, hints of coconut and banana aromas. Deep, complex and smoky yet offers and surprises the palate with a gentle sweetness. Really long, and dries appropriately with smoke and spice.
This Islay single malt is autumn gold in colour with a slightly peaty nose and smooth, velvety coconut aroma. The taste is soft velvet with a creamy, zesty orange finish.