Malibu By U Boisson À La Noix De Coco Et Rhum
Liqueur, 750 mL
| | |
| --- | --- |
| Pays : | Canada |
| Région : | Ontario |
| Producteur : | Twelve Islands Shipping Co |
| Site web : | www.hiramwalker.com |
| Alcool : | 21 % |
| Style : | Vive Et Sucrée |
| Couleur : | Incolore |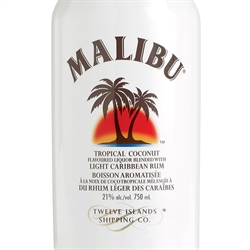 Note de dégustation
Robe claire et incolore; arômes et saveurs de noix de coco sucrée.
Note de dégustation (anglais)
Clear and colourless. Sweet coconut aroma and flavour in a rum base.
Nothing beats an original, and Malibu is not only an original, it is the world's best-selling Caribbean rum with natural coconut flavor. The taste of Malibu is Barbados in a bottle— smooth, fresh coconut flavour with a sweet finish.