Oban 14 Ans Highland Scotch Single Malt
Scotch, 750 mL
| | |
| --- | --- |
| Pays : | Royaume-Uni |
| Région : | Écosse |
| Sous région : | Highlands |
| Producteur : | Oban Distillery |
| Site web : | www.malts.com |
| Alcool : | 43 % |
| Cépage(s) : | Whisky écossais de malt |
| Style : | Puissant Et Fruité |
| Couleur : | Ambré(e) |
| Contenant : | Contenant De Verre Clair |
| Bouchon : | Liège |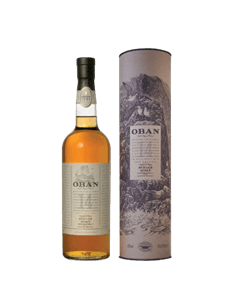 Note de dégustation
Nez de bord de mer, avec des accents minéraux, tourbés et maltés; délicat et parfumé; légèrement fumé en finale.
Note de dégustation (anglais)
Nose: spicy. Hot sawdust, fresh ginger, citrus zest. Crisp with water fragrant oak, allspice, shortbread with sugar. Palate: dried apricot, tingling. Slightly sweet with good balance in the mid-palate and a hint of menthol. Finish: tingling ginger. Short but fresh.
Mouth-filling late autumn fruits; dried figs and honey-sweet spices; followed by a smoky malty dryness. Simply lovely with chicken satay or even crystallized ginger.
Hint of sea air, mineral, subtle peat and mild maltiness; delicate, perfumed and slightly smoky on the finish