Palm Bay Lime Et Cerise
Vodka, 6 x 355 mL
| | |
| --- | --- |
| Pays : | Canada |
| Région : | Ontario |
| Sous région : | Rive nord du lac Érié |
| Producteur : | Palm Bay Beverage.co |
| Site web : | www.palmbayspritz.com |
| Alcool : | 5 % |
| Cépage(s) : | Demi-doux |
| Style : | Vif Et Fruité |
| Couleur : | Blanc |
| Contenant : | Contenant Aluminium |
| Bouchon : | Languette |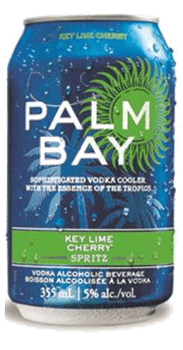 Note de dégustation
Robe vert très pâle; arômes de citron-lime et de bonbon à la cerise; saveurs moyennement sucrées de cerise et de citron-lime.
Note de dégustation (anglais)
A light tasting vodka cooler with flavours of cherry and lemon/lime flavours.
New Palm Bay Island Cherry Lime Spritz is a sophisticated vodka cooler with the essence of the tropics. A cool and refreshing blend of tropical flavours created to deliver a taste of paradise. 5% alc./vol.
Bursting with the flavor of fresh limes balanced perfectly with Carribbean cherries this exotic blend is refreshingly light with a crisp clean finish.  Enjoy the essence of the tropics no matter where you choose to hang your hammock.