Plymouth English Gin
Dry gin, 750 mL
| | |
| --- | --- |
| Pays : | Royaume-Uni |
| Région : | Angleterre |
| Producteur : | Chivas Brothers Ltd. |
| Site web : | www.chivas.com |
| Alcool : | 41,2 % |
| Style : | Mi-corsé Et Terreux |
| Couleur : | Ambré(e) |
| Contenant : | Contenant De Verre Clair |
| Bouchon : | Métal Vissé |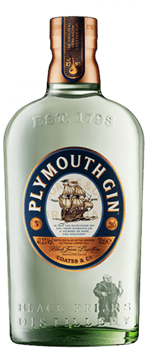 Note de dégustation
Robe claire et incolore; arômes d'agrumes, de genévrier, de fleurs et d'épices; saveur nette et séduisante, finale souple.
Note de dégustation (anglais)
Plymouth Gin has a great depth of flavour with deep earthy notes and a wonderfully fresh juniper and lemony bite. It has a slight sweetness with extraordinary concentration and complexity. No single botanical dominates the overall flavour. The finish is long and dry.