Rockstar
Vodka, 473 mL
| | |
| --- | --- |
| Pays : | États-Unis |
| Région : | Caroline du Nord |
| Producteur : | Rockstar Vodka Co. |
| Site web : | www.rockstarvodka.com |
| Alcool : | 6,9 % |
| Cépage(s) : | Doux |
| Style : | Affirmé Et Fruité |
| Contenant : | Contenant Aluminium |
| Bouchon : | Languette |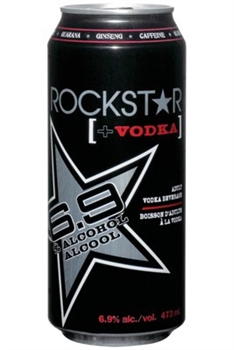 Note de dégustation
Robe or éclatante et fluorescente; arômes de fraise confite sucrée et de soda mousse. Bouche légère et demi-sucrée au goût de soda mousse; finale nette.
Note de dégustation (anglais)
A balance of vodka, herbs and naturally occurring caffeine from guarana.
This "rocking" original blend of vodka, herbs and guarana seed extract contains naturally occurring caffeine. Ready-to-go, this drink sets the scene for easy weekends at the cottage.
The bold taste you expect from Original ROCKSTAR only we've turned up the volume by adding 6.9% premium vodka.