Seagram's 83
Whisky, 1,75 L
| | |
| --- | --- |
| Pays : | Canada |
| Région : | Québec |
| Producteur : | Joseph E. Seagram & Sons Limited |
| Alcool : | 40 % |
| Cépage(s) : | Canada |
| Style : | Léger Et Doux |
| Couleur : | Ambré(e) |
| Contenant : | Bouteille Pet-4 (code Recyclage 1) |
| Bouchon : | Plastique Vissé |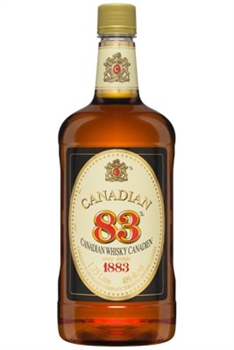 Note de dégustation
Robe ambre doré; de style léger, avec des notes de vanille et de sirop d'érable; facile à boire.
Note de dégustation (anglais)
Golden amber colour. A lighter style whisky with hints of maple syrup and vanilla on the palate.
A light and delicately flavoured Canadian whisky with subtle grain-like aromas and flavours.
A delicate, balanced array of fruitiness complemented with hints of seasoned oak. It has a light bodied taste with some sherry-like sweetness and dryness on on the finish.