Seagram's V.O. Whisky Canadien
Whisky, 750 mL
| | |
| --- | --- |
| Pays : | Canada |
| Région : | Québec |
| Producteur : | Joseph E. Seagram&Sons Limited |
| Alcool : | 40 % |
| Style : | Léger Et Épicé |
| Couleur : | Ambré(e) |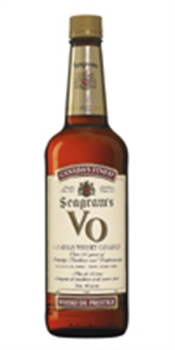 Note de dégustation
Robe ambre doré; abricot séché, noisette et touche vanillée au nez et en bouche.
Note de dégustation (anglais)
A blend of over 50 separate whiskies that have been aged a minimum of six years in oak casks. Honey colour with an amber tint. Highly floral nose. Candied, mellow flavours. Spicy notes in the aftertaste.
Seagram's "VO" is a well-balanced whisky with an array of flavors, along with distinctive wine and fruity characteristics. It has a soft taste on the palate, with a characteristic dry delicate finish.