Smirnoff Ice Light
Vodka, 4 x 330 mL
| | |
| --- | --- |
| Pays : | Canada |
| Région : | Québec |
| Producteur : | The Smirnoff Co. |
| Alcool : | 5 % |
| Cépage(s) : | Demi-doux |
| Style : | Vif Et Acidulé |
| Contenant : | Contenant De Verre Clair |
| Bouchon : | Liège |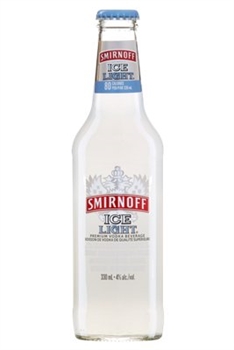 Note de dégustation
Robe blanc translucide effervescente; arômes séduisants d'agrumes, notamment de citron, de lime, de pamplemousse et de pomelo; léger et vif en bouche, avec une abondance de saveurs d'agrumes frais et des bulles qui dansent sur la langue.
Note de dégustation (anglais)
A lighter version of Smirnoff Ice. A vodka-based cooler full of citrus, lemonade, lime and grapefruit notes on the nose. Grapefruit and citrus flavours on the palate.
*Please note that prices shown exclude taxes. Taxes and container deposit, if applicable, will be applied at checkout. The price disclaimer below may not be correct.*