Sobieski
Vodka, 750 mL
| | |
| --- | --- |
| Pays : | Pologne |
| Producteur : | Imperial Brands |
| Site web : | www.wodki.gda.pl |
| Alcool : | 40 % |
| Style : | Nette Et Classique |
| Contenant : | Contenant De Verre Clair |
| Bouchon : | Couronne Métallique Vissée |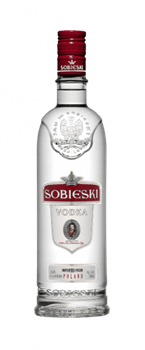 Note de dégustation
Robe limpide comme de l'eau; arôme net, bouche équilibrée et finale onctueuse.
Note de dégustation (anglais)
Appearance: Sobieski has a clear, colourless appearance Nose: cereal, toasted rye notes with a hint of citrus Taste: silky texture on the tongue, coll to the back of the throat; no heat; creamy feel in the mouth, touch of pepper. Gluten-free.
Made from 100% Dankowski Rye, Sobieski vodka has a clean aroma, balanced taste and smooth finish.
As Featured in TASTE Magazine, Fall 2012. Sobieski vodka, named after a 17th Century Polish king is made from the finest Dankowski Rye which helps give it its authentic, rich taste and silky finish. It can be enjoyed in favourite cocktails, straight up, on the rocks or in a very special martini.