Tanqueray
Dry gin, 375 mL
| | |
| --- | --- |
| Pays : | Royaume-Uni |
| Région : | Angleterre |
| Producteur : | Charles Tanqueray & Co. |
| Site web : | www.tanqueray.com |
| Alcool : | 40 % |
| Style : | Mi-corsé Et Notes De Genièvre |
| Contenant : | Contenant De Verre Clair |
| Bouchon : | Liège |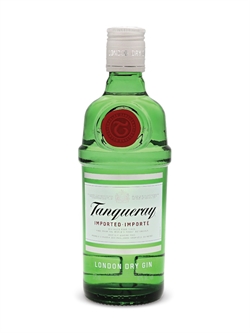 Historique des prix
Note de dégustation
Robe limpide comme de l'eau; nez dominé par des arômes de genièvre, avec des notes d'agrumes et de coriandre; sec et très équilibré en bouche, avec un soupçon de douceur et des saveurs à la fois réservées et élégantes; de longueur moyenne, la finale présente tous les éléments en parfaite harmonie.
Note de dégustation (anglais)
A blend of quality grains, water, select juniper berries and fine botanicals.
Clear water white; juniper and light botanicals on the nose and palate; warm finish.
Tanqueray Gin is a Premium English Gin that delivers a clean, crisp taste. It is 47.3% alcohol by volume and is sold in a unique and distinctive green bottle, based on a cocktail shaker. Very fresh and smooth on the nose with slight hints of juniper and citrus coming through. A good hit of liquorice is present on the palate, with a slight spice that creates a long tingle