The Balvenie 14 Ans Caribbean Cask Scotch Single Malt
Scotch, 750 mL
| | |
| --- | --- |
| Pays : | Royaume-Uni |
| Région : | Écosse |
| Sous région : | Vallée de Spey |
| Producteur : | The Balvenie Distillery Company |
| Site web : | www.thebalvenie.com |
| Alcool : | 43 % |
| Cépage(s) : | Whisky écossais de malt |
| Style : | Mi-corsé Et Fruité |
| Couleur : | Ambré(e) |
| Contenant : | Contenant De Verre Clair |
| Bouchon : | Liège |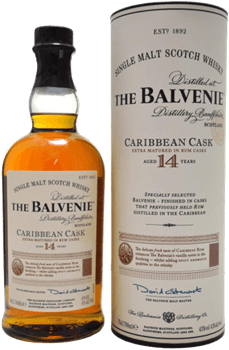 Note de dégustation
.
Note de dégustation (anglais)
Caribbean Cask has been matured in traditional oak whisky casks for 14 years, and then finished in casks that previously held Caribbean rum. The result is an exceptional single malt whisky with the traditional smooth, honeyed character of The Balvenie, married with notes of toffee and a hint of fruit, with a warm, lingering finish.
The aroma is rich with notes of tropical fruits, namely passion fruit, and creamy toffee. Sweet vanilla forms a creamy palate with notes of apples and mangos with a hint of orange in the background. The finish lingers with a vanilla focussed character. Mouth-coating and fruity with superb balance, this is an excellent new release from the chaps at Balvenie.