The Glenlivet 15 Ans French Oak Reserve Scotch Single Malt
Scotch, 750 mL
| | |
| --- | --- |
| Pays : | Royaume-Uni |
| Région : | Écosse |
| Sous région : | Vallée de Spey |
| Producteur : | The Glenlivet Distillery |
| Site web : | www.theglenlivet.com |
| Alcool : | 40 % |
| Cépage(s) : | Whisky écossais de malt |
| Style : | Mi-corsé Et Fruité |
| Couleur : | Ambré(e) |
| Contenant : | Contenant De Verre Clair |
| Bouchon : | Liège |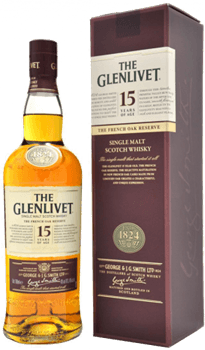 Note de dégustation
Robe cristalline de teinte or moyen; flaveurs de crème brulée, de pomme sucrée et de lavande, avec des notes délicatement fumées et tourbées; riche et complexe en finale.
Note de dégustation (anglais)
Medium Speyside Malt. A classic Speyside single malt, matured in a combination of bourbon and sherry casks. The dry, fresh, fruity aromas of apples and pears are subtly enhanced with sweet notes of vanilla and mint toffee.
Deep gold, with intense late afternoon summer sunshine shades. Creamy and rich. Resinous fragrances swirl up before melting into a citrus fruit salad bowl. Orange peel and candied grapefruit aromas. Then, the bouquet opens on buttery notes. Shortbread, almond brandy snaps, vanilla toffee, fudge sauce. A dry spicy echo with a touch of liquorice resonates in the back. Round, sweet, incredibly smooth and velvety. Wood is entirely integrated but present all the way, sweetly enveloping fruity and nutty flavors in an oaky shell. Luscious chocolate fudge lingers on. Lingering with traces of toasted hazelnuts and lightly smoked almonds.