The Glenlivet 21 Ans Archive Scotch Single Malt
Scotch, 750 mL
| | |
| --- | --- |
| Pays : | Royaume-Uni |
| Région : | Écosse |
| Sous région : | Highlands |
| Producteur : | The Glenlivet Distillery |
| Site web : | www.theglenlivet.com |
| Alcool : | 43 % |
| Cépage(s) : | Whisky écossais de malt |
| Style : | Puissant Et Doux |
| Couleur : | Ambré(e) |
| Contenant : | Contenant De Verre Clair |
| Bouchon : | Liège |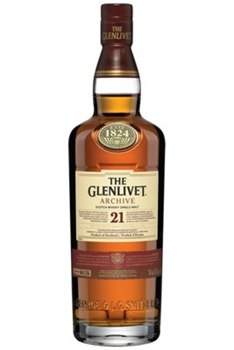 Note de dégustation
Éclatante robe ambre; arômes de pomme, de caramel, de minéral et de fumée douce; bouche moelleuse aux saveurs de céréales douces, de noix, d'épices et de tourbe fumée; finale longue et légèrement fumée.
Note de dégustation (anglais)
Speyside. Mellow, full of fruits and slightly spicy.
Amber with sparkling copper shades. An opulent, mature nose with a sherry influence. An intricate array of wood and fruit: Christmas cake, sultanas, maraschino cherry. Water enlightens the fruity bouquet and brings out vanilla and lighter notes of ripe peaches. Pear and marzipan pie. Luscious barley sugar aromas. This full-bodied whisky is unctuous and mouth coating, almost syrupy. Oak holds the reins back, releasing a drying spiciness of cinnamon, ginger, walnut and dark chocolate. The finish is everlasting and warming with lingering presence of toasted hazelnuts and a full layer of liquorice.