Woodford Reserve Kentucky Straight Bourbon
Whisky, 750 mL
| | |
| --- | --- |
| Pays : | États-Unis |
| Région : | Kentucky |
| Producteur : | The Woodford Reserve Distillery |
| Site web : | www.brown-forman.com/ |
| Alcool : | 45,2 % |
| Cépage(s) : | Bourbon |
| Style : | Mi-corsé Et Doux |
| Couleur : | Ambré(e) |
| Contenant : | Contenant De Verre Clair |
| Bouchon : | Liège |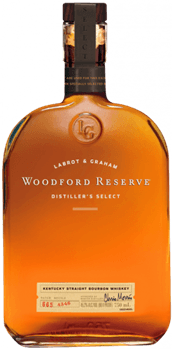 Note de dégustation
Robe ambre moyen; arômes d'abricot, de caramel, d'épices et de vanille sucrée; bouche riche et corsée, souple et plutôt ronde, avec de délicates saveurs de vanille et de caramel; finale longue et complexe.
Note de dégustation (anglais)
A golden bourbon with aromas of caramel, demara sugar, wood vanillins and flavours of spice and caramel.
This truly unique small batch bourbon honours the heritage of The Woodford Reserve Distillery, America's oldest bourbon distillery.
Five sources of flavour have been customized for this craft bourbon. The first includes mineral-rich iron-free water. The second ingredient is a unique grain recipe including corn, malted barley and rye which gives it its feisty spice character. The third is our unique cypress fermenters; fourth we distill in our customized copper pot stills; and lastly we mature in our own white oak barrels.
As Featured in TASTE Magazine, Fall 2012. Each bottle of the rich and fruity Woodford Reserve bears a small batch and bottle number. Subtle overall, it makes for smooth sipping.