Carlo Rossi California White
Vin blanc, 1,5 L
| | |
| --- | --- |
| Pays : | États-Unis |
| Région : | Californie |
| Producteur : | E & J Gallo Winery |
| Site web : | www.carlorossi.com |
| Alcool : | 9,5 % |
| Cépage(s) : | Assemblage |
| Style : | Léger Et Vif |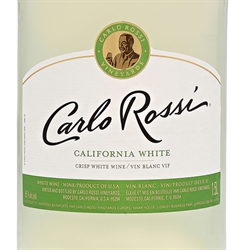 Note de dégustation
Robe paille pâle. Arômes végétaux et de gazon. Saveurs nettes de pomme verte.
Note de dégustation (anglais)
Soft, juicy apples, with mild acidity are the notes of this light-bodied white wine.
A white wine that is both light and crisp, Carlo Rossi also offers a nice, clean finish. Fragrant flavors of ripe pear add depth and give this wine a lasting appeal.
Straw colored, semi dry white wine with a crisp, light taste.