Fontanafredda Briccotondo
Vin rouge, 750 mL
| | |
| --- | --- |
| Pays : | Italie |
| Région : | Piémont |
| Producteur : | Fontanafredda |
| Site web : | www.fontanafredda.it |
| Alcool : | 13,5 % |
| Appellation : | Piemonte |
| Cépage(s) : | Barbera |
| Style : | Mi-corsé Et Fruité |
| Couleur : | Rouge |
| Contenant : | Contenant De Verre Coloré |
| Bouchon : | Liège |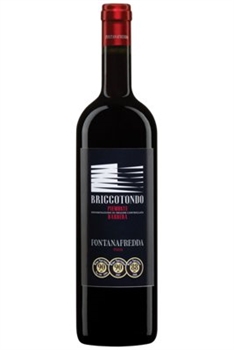 Note de dégustation
Robe arborant une couleur rouge violacé foncé. Nez puissant qui s'ouvre sur des parfums de fruits rouges, de violette et d'anis. Ce rouge sec démontre une agréable fraîcheur et est pourvu de tannins charnus. La bouche d'une texture ample se termine dans une finale assez persistante.
Note de dégustation (anglais)
This is a ruby-red wine with purple highlights. The nose is packed with black fruit, especially blackberries and plums, with slight spicy overtones hinting at black pepper and cinnamon. Sweet, soft tannins come together in a closely-woven texture that merges with the fruit, while a crisp freshness provides a long, tasty finish. This wine is at its best for 3-4 years following the harvest. Pairings: A perfect match for starters, cured meats and fresh and medium mature cheeses.
Plums and cherries reign on the palate, with fine acidity, but not with that over-the-top tartness. The black pepper and fruit spiced with bits of cardamom are perfect flavours, for Spaghetti Bolognese or mushroom risotto.