Henkell
Vin mousseux, 750 mL
Pays :
Allemagne
Producteur :

Henkell & Co.

Site web :
www.henkell.com
Alcool :
12 %
Cépage(s) :
Pinot blanc 50%
Riesling renano 30%
Gamay 20%
Style :
Délicat Et Fruité
Couleur :
Rosé
Contenant :
Contenant De Verre Coloré
Bouchon :
Liège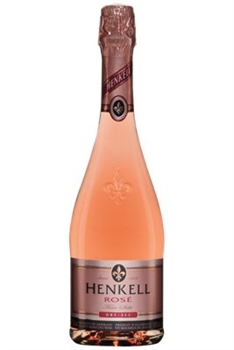 Note de dégustation
Robe rose saumon pâle; nez tendre de petits fruits avec de légères notes de minéraux et d'herbes; demi-sec, saveurs légères d'agrumes et de petits fruits, finale relevée de notes minérales.
Note de dégustation (anglais)
A very different rose. Dry instead of sweet, exciting instead of boring, delicately effervescent instead of brash - simply put: Henkell. Henkell Rose is an ideal basis for crisp, fresh cocktails and is delicious on exotic fruits, pleasantly cool on ice or a treat just straight. Ideally suited for any occasion, the deliciously delicate fruity taste of this sparkler with its fresh bubbly character is delightful.
As featured in Taste Magazine, Spring 2013. Pretty and pink in the glass with bubbles that pop with aromas of citrus and red fruits, this rosé is slightly sweet and full of flavours of peach, raspberry, apple and hints of orange peel. Perfect with chocolate desserts.