Lindeman's, Bin 45 Cabernet Sauvignon
Vin rouge, 750 mL
| | |
| --- | --- |
| Pays : | Australie |
| Région : | Australie-Méridionale |
| Sous région : | Barossa, Barossa Valley |
| Producteur : | Lindemans Wines |
| Site web : | www.treasurywineestates.com |
| Alcool : | 13,5 % |
| Cépage(s) : | Cabernet-sauvignon 100% |
| Style : | Corsé Et Souple |
| Couleur : | Rouge |
| Contenant : | Contenant De Verre Coloré |
| Bouchon : | Métal Vissé |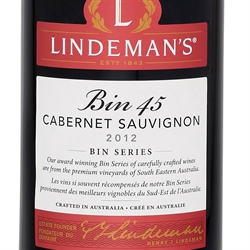 Historique des prix
Note de dégustation
Profonde robe rouge-grenat; arômes de menthe et de chêne; bouche corsée aux saveurs de cassis et de cerise avec des notes de vanilline de chêne.
Vin arborant une couleur rouge cerise plutôt profond. Nez assez puissant qui s'ouvre sur des effluves de fruits rouges mûrs, d'épices et de poivron vert. Ce nectar possède une très grande fraîcheur et est pourvu de tannins enrobés. Sa bouche ample se termine dans une finale assez persistante.
Note de dégustation (anglais)
A medium to full-bodied wine that combines dark fruit and cassis flavours with hints of chocolate and mint, leading to a long and juicy finish.
A medium bodied wine with blackcurrant fruit flavours, hints mint set against a soft vanillin oak backbone. Gentle tannins and juicy acidity contribute to the lingering soft finish.
The LINDEMANS Bin 45 Cabernet Sauvignon begins with cassis and bramble fruit aromas, which meld with dark fruit notes and subtle spiced touches. Dark berry fruit and cassis flavors combine with hints of chocolate and mint in this medium to full bodied Cabernet Sauvignon, ending with a long, stylish, juicy finish.
*Please note that prices shown exclude taxes. Taxes and container deposit, if applicable, will be applied at checkout. The price disclaimer below may not be correct.*