Lindeman's Bin 85 Pinot Grigio
Vin blanc, 750 mL
| | |
| --- | --- |
| Pays : | Australie |
| Région : | Australie-Méridionale |
| Sous région : | Barossa Valley |
| Producteur : | Lindemans Wines |
| Site web : | www.lindemans.com |
| Alcool : | 12 % |
| Cépage(s) : | Pinot grigio 100% |
| Style : | Léger Et Vif |
| Couleur : | Blanc |
| Contenant : | Contenant De Verre Coloré |
| Bouchon : | Métal Vissé |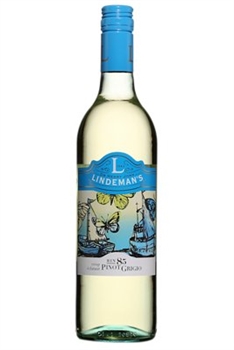 Note de dégustation
Robe paille pâle; doux bouquet de poire fraîche; sec, mi-corsé, frais, savoureux et rond, avec une acidité équilibrée en finale.
Vin à la robe jaune pâle. Nez fin qui s'ouvre sur des arômes dominants de fruits blancs. Prenez plaisir à déguster ce blanc sec possédant une bonne vivacité. Fidèle aux arômes perçus à l'olfaction, il s'affirme par des flaveurs de pêche. Il révèle une texture souple qui s'estompe dans une finale légèrement soutenue.
Note de dégustation (anglais)
The wine is pale golden in colour. The nose shows lifted tropical fruit characters with guava notes. This is a crisp wine with medium fruit concentration in the middle palate. A soft acidity gives the wine a clean finish.
The LINDEMANS Bin 85 Pinot Grigio bursts with floral notes of jasmine and apple blossom, and opens up on the palate to citrus and lemon peel. This wine ends with a wonderful grapefruit acidity that creates a clean and lengthy finish.
Pale straw colour; melon, soft tangerine and citrus aromas; dry, medium body; apricot and citrus flavour with clean, refreshing finish
Lovely notes of melon and apple are followed by a refreshing white peach finish that is the perfect sipping wine. Makes a great aperitif or partner with prawns or light pasta dishes.