Mort Subite Kriek Cerise
Vin, 375 mL
| | |
| --- | --- |
| Pays : | Belgique |
| Producteur : | Brasserie De Keersmaeker SA |
| Site web : | www.alamortsubite.com |
| Alcool : | 4,5 % |
| Cépage(s) : | Lambic |
| Style : | Corsée Et Fruitée |
| Couleur : | Roux, rousse |
| Contenant : | Contenant De Verre Coloré |
| Bouchon : | Liège |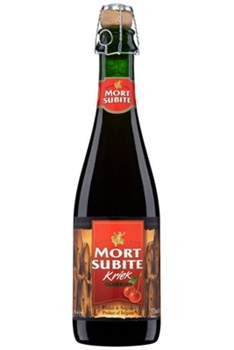 Note de dégustation
Arômes de cerise; saveurs de fruits dans une bouche ronde et douce.
Note de dégustation (anglais)
One of the most unique and traditional beers possible! Only able to be brewed in Belgium's Zenne Valley, the beer undergoes spontaneous fermentation, which brings out a special balance of fruitiness and acidity. Mort Subite Kriek is brewed with sour cherries in actual wooden barrels. Cherry aroma with fruit flavour and round sweetness
Soft fruity nose, sweet, dry cherry aromas with almond notes on the nose. Sweet, fresh cherries in the mouth, very drinkable. Clean and refreshing, with a bright crisp finish.