Santa Cristina Chianti Superiore
Vin rouge, 750 mL
| | |
| --- | --- |
| Pays : | Italie |
| Région : | Toscane |
| Producteur : | Marchesi Antinori SRL |
| Site web : | www.santacritina1946.it |
| Alcool : | 13 % |
| Appellation : | Chianti |
| Couleur : | Rouge |
| Contenant : | Contenant De Verre Coloré |
| Bouchon : | Liège |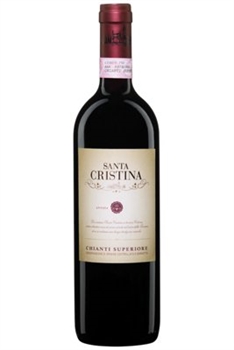 Note de dégustation
Robe exhibant une couleur rubis plutôt profond. Nez qui s'ouvre sur des notes d'épices, de fruits secs et de prune. Le tout est complété par de subtils arômes de bois. Ce rouge sec exprime une agréable fraîcheur et est muni de tannins charnus. La bouche d'une texture ample culmine dans une finale assez soutenue.
Note de dégustation (anglais)
A ruby red with purple highlights in color, the wine expresses intense and ample aromas of red fruit along with notes of vanilla, white chocolate, and coffee. On the palate, the wine is balanced, full-bodied with soft tannins, and endowed with a complex finish and aftertaste which recall chocolate and coffee.
Ruby red with purple highlights, the aromas recall red fruit, particularly cherries, along with a light scent of vanilla from the oak aging. On the palate the wine is full of soft and velvety tannins, and with the aftertaste there is a return of the red fruit first felt on the nose.
This wine is a deep ruby red colour with hints of purple. Its aromas of mature fruit, chocolate and vanilla are the result of aging in fine wood. Its well-balanced flavour, sweet tannins and flavourful finish linger pleasantly in the mouth.