Torres Gran Coronas Reserva
Vin rouge, 750 mL
| | |
| --- | --- |
| Pays : | Espagne |
| Région : | Catalogne |
| Producteur : | Soc. Vinicola Miguel Torres SA |
| Site web : | www.migueltorreschile.com |
| Alcool : | 14 % |
| Appellation : | Penedès |
| Cépage(s) : | Cabernet-sauvignon |
| Style : | Corsé Et Souple |
| Couleur : | Rouge |
| Contenant : | Contenant De Verre Coloré |
| Bouchon : | Liège |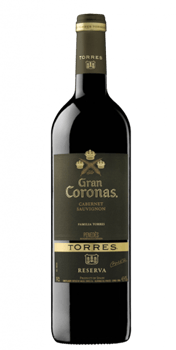 Note de dégustation
Fondée il y a plus de 130 ans, l'exploitation espagnole Torres a presque à elle seule élevé le Penedès au rang des grandes régions viticoles. Ce cabernet livre d'intenses saveurs de prune et de groseille rouge agrémentées de notes de grain de café et de tanins soyeux. ,,Il brille avec les fajitas au boeuf épicées, les empanadas, le filet mignon et l'agneau grillé.
Robe de couleur rubis foncé. Nez puissant qui s'ouvre sur des parfums de pruneau confit, de bois, de thé et de tabac. Laissez-vous charmer par ce rouge sec possédant une agréable fraîcheur et doté de tannins enrobés. En rétro olfaction, il s'affirme par des saveurs de fruits confits. Il offre une bouche presque grasse qui précède une finale persistante.
Note de dégustation (anglais)
It has aromas of jam, with a silky elegance in the mouth.
The rich, sensual aroma is typical of the grape varieties recalling small red and black berries such as cherries and blackcurrants, green coffee beans, liquorice and the characteristic vanilla and leather notes from ageing. On the palate the wine is full and silky with dense, well-structured tannins.
Years of experimentation and constant innovation, while recovering indigenous varieties that had been lost and attention to new consumer tendencies, the D.O. Penedes offers an exquisite range of quality red wines. The red wines of the Penedes improve with the passage of time if kept in the appropriate conditions (protected from light, smells and vibrations and at a constant temperature not above 15C). Depending on the vintage and the grape variety, they should evolve well for 4-5 years. This wine is characterized by its dark ruby colour with light russet tones and its aromatic complexity. There's a predominance of notes typical from its ageing in the cask (such as toast, vegetation), accompanied by notes of menthol and spices on a background of ripe cherry and plum jam. On the palate it has a lush attack with a voluptuous body and velvety tannins. Perfect pairings are charcuterie and meat dishes.
Note des usagers
aromatique et charnu