Torres Ibéricos
Vin rouge, 750 mL
| | |
| --- | --- |
| Pays : | Espagne |
| Région : | La Rioja |
| Sous région : | Alta |
| Producteur : | Miguel Torres SA |
| Site web : | www.migueltorreschile.com |
| Alcool : | 14 % |
| Appellation : | Rioja Alta |
| Cépage(s) : | Tempranillo 100% |
| Couleur : | Rouge |
| Classification : | Crianza |
| Contenant : | Contenant De Verre Coloré |
| Bouchon : | Liège |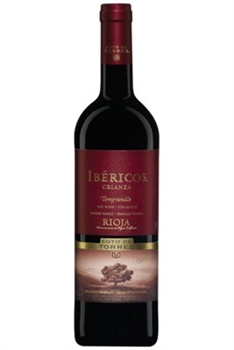 Note de dégustation
Robe exhibant une couleur rubis de bonne intensité. Nez fin qui s'ouvre sur de subtils arômes de confiture de petits fruits rouges, d'épices douces et de chocolat noir. À cela s'ajoutent de subtiles notes boisées. Prenez plaisir à déguster ce rouge possédant une agréable fraîcheur et pourvu de tannins enrobés. Fidèle aux parfums perçus à l'olfaction, il laisse percevoir des saveurs de fruits rouges, de réglisse et de bois. Il a une texture ample qui se termine dans une finale assez soutenue.
Note de dégustation (anglais)
Deep red cherry colour. On the nose it reveals notes of black ripened fruits and spicy aromas (cocoa and nutmeg) from the wood. Silky entrance in the mouth with pleasant tannins. Long and spicy aftertaste. This wine pairs well with a great variety of meat dishes including roasts and game.
Opaque cherry red colour. Floral (Damascus rose) and fruit (strawberry, raspberry) aromas with spicy and smoky notes imparted by oak aging. Velvety, smooth with fine juicy tannins.
*Available only in the BC Liquor Store at the Vancouver International Wine Festival Feb. 26-28, 2015.*