Torres Salmos
Vin rouge, 750 mL
Pays :
Espagne
Région :
Catalogne
Producteur :

Miguel Torres SA

Site web :
www.torres.es
Alcool :
13,5 %
Appellation :
Priorat
Cépage(s) :
Carignan 40%
Grenache 40%
Syrah 20%
Style :
Corsé Et Souple
Couleur :
Rouge
Contenant :
Contenant De Verre Coloré
Bouchon :
Liège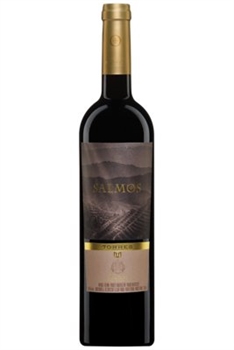 Note de dégustation
.
Robe de teinte rouge violacé profond. Nez exubérant d'où émanent des notes de réglisse, de vanille et de fruits noirs. Le tout est également agrémenté par des effluves de torréfaction. Faites la découverte de ce rouge laissant percevoir une bonne acidité de tannins serrés. Il dévoile une texture ample qui perdure dans une finale persistante.
Note de dégustation (anglais)
Dark red with violet hints. Intense aroma with candied fruit, notes of cocoa and brown sugar. Roasted, spicy notes with sweet tannins that fade slowly and culminate in a long, elegant finish.
Dark in hue and almost opaque. It is fragrant and mineral on the nose; while on the palate it is luxurious and oily, but also silky and with a long finish. This darkly coloured wine is reminiscent of jam and liquorish, over a smooth spicy and toasted background, which comes from The French oak barrels.