Trapiche Extravaganza Red Blend
Vin rouge, 750 mL
Pays :
Argentine
Région :
Cuyo
Producteur :

Bodegas Trapiche

Site web :
www.trapiche.com.ar
Alcool :
13,5 %
Cépage(s) :
Syrah 50%
Malbec 30%
Bonarda 20%
Couleur :
Rouge
Contenant :
Contenant De Verre Coloré
Bouchon :
Liège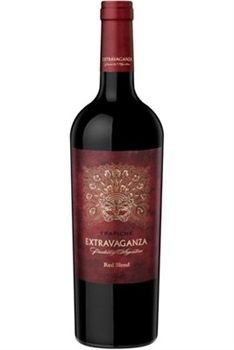 Note de dégustation
Vin à la robe rouge violacé plutôt intense. Nez exubérant d'où émanent des arômes dominants de confiture de petits fruits rouges, de vanille et de pâtisserie. Ce rouge démontre une agréable fraîcheur et est doté de tannins enrobés. Il offre une bouche presque grasse qui se prolonge dans une finale assez soutenue.
Note de dégustation (anglais)
Here's a great find from one of Argentina's legendary producers. Trapiche Vineyards Red Blend is a delicious blend of Malbec, Syrah, and Bonarda that delivers bold flavors of cherry, blackberry and mocha. The smooth, intense finish pairs well with grilled meats, burgers, BBQ and roasted vegetables.
This medium-dry purplish red coloured wine features intense woody, spicy and fruity scents and offers a broad texture as well as fleshy tannins.
Tasty flavours of cherry pie filling are accented by blackcurrant fruit and a soft palate. Food Pairing: This approachable style would make for a delicious aperitif, but would also complement strong cheeses or honey spare ribs.