Villa Maria Estate Private Bin Sauvignon Blanc
Vin blanc, 750 mL
| | |
| --- | --- |
| Pays : | Nouvelle-Zélande |
| Région : | South Island |
| Sous région : | Marlborough |
| Producteur : | Villa Maria Estate |
| Site web : | www.villamaria.co.nz |
| Alcool : | 13 % |
| Cépage(s) : | Sauvignon blanc 100% |
| Style : | Léger Et Vif |
| Couleur : | Blanc |
| Classification : | Estate bottled |
| Contenant : | Contenant De Verre Coloré |
| Bouchon : | Métal Vissé |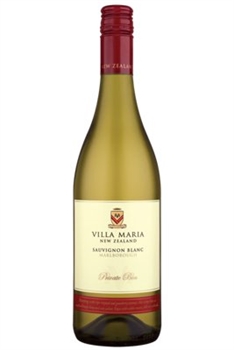 Note de dégustation
Robe paille pâle; arômes intenses de groseille, de lime, d'herbe et d'asperge; vin sec et mi-corsé à l'acidité vive et aux saveurs de poivron, de groseille et d'agrumes; finale vive et nette.
Vin arborant une couleur jaune-vert de faible intensité. Nez exubérant d'où émanent des effluves d'asperge, d'agrumes et de fruits de la passion. Ce blanc démontre une bonne acidité. Il offre une bouche souple qui perdure dans une finale persistante.
Note de dégustation (anglais)
Bursting with ripe gooseberry and citrus lime, melon and exotic herbal aromas. It is a fresh and ripely flavoured wine with fantastic intensity, finishing with crisp and racy acidity.
This Sauvignon Blanc has flavours of passion fruit, fresh lime and melon, showing off a juicy mouthfeel and a delicious finish. It is the perfect pairing with seafood and all white meats.
This crisp and vibrant wine has aromas of fresh snow peas, delicate florals and zesty limes. On the palate, juicy acidity is balanced with flavours of melon, passion fruit and ruby grapefruit. Crisp, clean and refreshing, Sauvignon Blanc from New Zealand is one of the most food-friendly wines around. Try with shellfish, grilled chicken or spicy curry dishes.